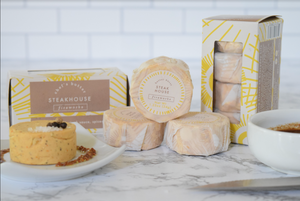 This butter serves up a spectacle. It dazzles. It provokes. It "oohs and ahhs." It brings people together, salivating for seconds. Our steak butter is swirled with tangy, rich flavors just begging to be melted on a juicy steak, slathered on portobello's, united with mashed potatoes, and baked onto cauliflower. So throw caution to the wind and watch the crowds swarm, salivating for seconds. It's Fireworks, literally and by name.
All Fireworks Chef's Butter products contain grass-fed butter, no antibiotics, growth hormones, and pesticides, and are rBGH free. 
INGREDIENTS: Grass-fed Butter (cream, salt), Dry Mustard Powder, Worcestershire Sauce (white vinegar, molasses, raisins, orange juice concentrate, salt, sugar, lemon juice, onion, caramel color, garlic, tamarind concentrate, xanthan gum, black pepper, celery seed, allspice, nutmeg, cloves, ginger, cayenne), Steak Sauce (tomato paste, raisins, white vinegar, sugar, garlic, onion, orange juice, salt, tamarind concentrate, spices), Salt, Pepper, Cayenne. CONTAINS: MILK

All orders ship on Mondays. The cutoff is Sunday at midnight.